The Georgetowner & The Downtowner
The Anti-Aging Fitness Prescription
---
The Georgetowner & The Downtowner
Transitions: Summer Wardrobe to Fall
August 26 2009
By: Pamela Burns and Alexis Miller
The Georgetowner/ Downtowner



---
Work Evaluation
Smart Apparel Purchases That Will Please Both You And Your Boss
September 2009
By: Natalie Kaar
Northern Virginia Magazine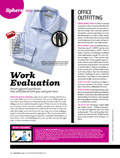 ---
Looks on the Hill: the Latest Hits and Misses
August 25, 2009
By: Natalie Kaar
Northern Virginia Magazine
Greetings, shoppers! In case you're a tad tired from watching Ms. Wintour on the Late Show last night, I thought I'd help you in your continued quest for fashion inspiration and enhanced shopping smarts by introducing you to a fun new read: The sartorial sounding board blog, "Fashion Around the Mall," written by our September SHOP expert, Pamela Burns, and fellow fashion consultant Alexis Miller, of PamShops4You. (By the way, if you haven't checked out the latest SHOP column yet, look for our September issue on newsstands now.)
Inspired by our stylish new president and first lady, Fashion Around the Mall looks to Washington's powerful leaders for prime examples of wardrobe dos, and, of course, a few don'ts. Thanks to following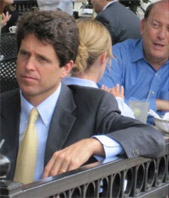 all of the Hill's hottest happenings as well as its normal doings, Burns and Miller have a knack for snapping photos that you won't find elsewhere, like this photo of Sen. John McCain on the street with his son outside of Johnny's Half Shell.
For further fashion inspiration, the style gurus also make sure to capture great looks on Hill staffers who may not have as deep of wallets but are certainly not short on style. After all, who isn't looking for beautiful bargains these days?
Speaking of bargains, here some sales at a few of the stores Burns recommended for work wear in the September article: Ann Taylor, BCBG, Brooks Brothers, Bloomingdale's, Cole Haan, Nordstrom Happy browsing and buying! And, remember: If you're heading to the Hill, you had better look haute.
---
Accessory Necessity
March 3, 2008
By: Natalie Kaar
Northern Virginia Magazine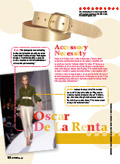 ---
Printed with special permission from the Washington Post.
---
Fading Out of Fashion
As Gap¹s Dominance Unravels, Chain May Go Up for Sale
January 10, 2007
By: Ylan Q. Mui
The Washington Post
Pamela Burns, a personal shopper in the Distict, said she has all but given up on Gap. She used to find cute flannel pajamas and expensive-looking velvet blazers there. Now, she said, she walks out almose as soon as she walks in.
Even the basics have lost their appeal. This holiday season all she bought at Gap was a candle.
I feel like there¹s no style right now, she said. ³Who wants to really walk in for khakis and white shirts?
---
Taking a Stiletto To D.C.s Drab Image
A Sensible-Pumps Town Develops Taste for Manolo and Jimmy
September 19, 2006
By: Ylan Q. Mui
The Washington Post
Pamela Burns, a local personal shopper whose clients range from chief executives to housewives, said she noticed a change in the level of merchandise carried in department stores, as well. Higher-end names such as Michael Kors, Dolce & Gabbana and Prada have become more common.
$200 shoes were expensive before, she said. Now, $500 shoes and boots arejust blowing out of the stores.
---
Business Casual? Seriously.
Some People Take the Idea of Dressing Down Too Far
August 13, 2006
By: Amy Joyce
The Washington Post
Honestly, it¹s a little confusing, said Pamela Burns, a personal shopper based in the district. Mainly it¹s confusing because men don¹t know what¹s appropriate. What is business casual? These companies that had Jeans Friday¹s are not really touting that anymore, she said. Because that turned into two days a week and three days a week, she said. People got too relaxed.
---
Some Styles Just Flop at the Office
Managers Deal With Shirts That Show Too Much and Shoes Made for the Beach
May 15, 2005
By: Amy Joyce
The Washington Post
Pamela Burns, a personal shopper in the Washington area, said she is used to working with recent grads who want to get a more professional look (or perhaps more often, whose parents what them to look more professional). So she steers her clients who prefer comfy casual to items that might be more acceptable in the office. Many of her male clients who want to be comfortable but professional buy a new Cole Haan shoe that looks like a loafer but has a Nike-like sole. Guys who are used to just wearing sneakers, I put them in those and they look really good, she said.
Some fancier thong shoes (even if you spend less than those who buy the $485 Manolo Blahnik floral thong at Neiman Marcus) may work for women as long as they are worn with a professional outfit.
I do think that college generation and under is more casual to begin with, Burns said. it¹s kind of that old dot-com thought that you can wear whatever you want to work and it doesn¹t matter. But unfortunately, it slaps everyone in the face. I do feel that years ago I would do seminars where people were wearing Tevas (sandals) in financial institutions, and now they¹re wearing suits.
---
The Gift That¹s So Nice It¹s Given Twice
December 21, 2004
By: Alexa Payne
The Washington Post
Pamela Burns, owner of Pam Shops 4 You based in Washington, is a little more wary of the process. Her emphasis, also, is on passing along only something of quality you know the other person will like. The whole idea of regifting because it saves money or a trip to the store is a problem, she says.
I¹m not a fan of recycling, Burns says. I think nine times out of 10, it¹s something people don¹t like and they pass it on. And that's why it gets a bad name.
In that very small category of items she will regift without hesitation: wine. That, she says is completely appropriate.
No matter what you do, you want someone to enjoy the gift, Burns emphasizes. Whether it¹s something you've purchased or something given to you.
---
Pulling Together a Workable Wardrobe
Planning is Key to Looking Stylish On a Budget
March 14, 2004
By: Margaret Webb Pressler
The Washington Post
Personal shoppers steer new graduates away from trendy styles, such as stiletto heels and short skirts, and advise them to buy high-quality backbone pieces. The basics can last them at lease three years, then they can add to that, said Pamela Burns, a Bethesda-based fashion consultant.
But where do you buy all this finery?
Burns likes to take her clients to the big sales at department stores, especially Nordstrom, Bloomingdale¹s and Saks, where the discounts can be meaningful. But she also recommends specialty chains such as the Gap, Banana Republic and Ann Taylor Loft‹on sale when possible.
---
More Business, Less Casual
March 17, 2002
By: Amy Joyce
The Washington Post
Have you looked around the office lately? Or maybe somebody else¹s office? Noticed a few changes? Well, some have, and that has made Pamela Burns a very busy shopper lately.
The Bethesda-based fashion consultant and personal shopper has had a lot of shopping to do for men who are suddenly in search of a new look. They want to scrap the khakis and T-shirts and go for a more professional image. 'Business Casual' just isn¹t going to work anymore.
Pamela Burns thinks men just took casual too far. "Now that there aren¹t dot-coms, they need that tie," she said.
Brad Niremberg us a Burns client. The president of Momentum Marketing, a D.C.-based event-marketing firm, noticed that his client base was changing, and he didn¹t feel appropriate in his usual khakis and denim shirt while making presentations anymore.
So he went to Burns for a style adjustment. Although he still doesn¹t don an investment-banker-like suit, he has sharpened his image with nicer shoes and a blazer. And "the T-shirt under the shirt doesn¹t show anymore." said Niremberg. It¹s more of a refined look.
Lo and behold, once he began to snazz up at the office, so did his 30 or so employees. They may be under ago 30 and used to casual, but they have divined the new dress message. "People here are taking a lot more care with what they¹re wearing to work on a daily basis," Niremberg said.

---
Hill Wardrobes
May 6, 2008
By: Kris Kitto
The Hill
On the flip side, some personal shoppers who work with Capitol Hill employees say those in politics are in dire need of fashion help.

"A lot of them could really use some fashion pointers," says Pam Burns, owner of the local business Pam Shops 4 You. She sympathizes with busy lawmakers, especially women, who often suffer under the assumption that it's their nature to love shopping.

"What I've found [is] most women that are extremely busy and have very demanding jobs do not like to shop because they don't have time," she says.

---
September 2003
Money Magazine
"Boutiques hold on to merchandise as long as they can because they have to pay for their inventory up front," explains Pamela Burns, a personal shopper in Washington, DC.

---
Printed with special permission from the Washington Times.
---

Retail Relay
Pro Shopper Delivers For Busy Clients
Friday, December 22. 2000
By: Chris Baker
The Washington Times
Before you tell Pamela Burns how much you envy her, walk a mall in her shoes. Ms. Burns is a professional shopper. People from around the D.C. area – as well as some from other countries – pay her to buy clothes for them. Her clients are primarily people who do not like to shop, or people who need help finding clothes that look good on them.
She says her job makes her the envy of friends, but they don't realize how tiring it can be. "It's fun, but you spend a lot of time on your feet," she says.
Ms. Burns was on her feet Wednesday morning, buzzing around the Tysons Corner Center mall in McLean. She began her morning at the Bloomingdale's department store. At the jewelry counter, she picked up three pairs of rhinestone earrings for about $16 apiece.
The earrings are for friends of a client. "I bought the same pair for [the client], and her friends liked them so much" that they asked for pairs of their own.
Next, it's off to the men's section, where Ms. Burns searches for a casual shirt for a client whom she describes as a "very conservative lawyer." A sales clerk shows her several plaid shirts from designer Ralph Lauren, but Ms. Burns rejects them because they are partially black.
"There's no point in me looking at them. He does not want anything black. He won't wear it," she says. Ms. Burns also visits the store's formal-wear department. Several of her clients plan to attend the Inauguration Day balls Jan. 20, she says. "The minute it became certain [George W. Bush] was going to be president, my phone started ringing off the hook," she says.
Later, Ms. Burns checks out the Bloomingdale's fur department, where a beaver coat is marked down to $5,750 from $11,500. She also examines shoes and some casual clothes for women.
Ms. Burns says most of her clients are upper-class professionals between the ages of 25 and 80. Clients include business people, senior citizens and college students just entering the work force.
In most cases, Ms. Burns puts her clients' merchandise on her company credit card. Her clients reimburse her and pay a 20 percent service fee.
Before taking a new client, she requires a consultation to determine the individual's clothing needs. A 45-minute consultation costs $50.
She keeps a database of her clients' purchases, but she also has a good memory. "I'm a very visual person, and I can pretty much remember what they have," she says.
In addition, businesses hire Ms. Burns to conduct seminars on proper attire for the workplace. "Figuring out what is appropriate for `casual Fridays' is a big concern for a lot of employers," she says.
Ms. Burns is a Potomac native. She studied fashion at the University of Maryland at College Park, and worked in the garment district in New York.
Her company, Pamshops4you, officially opened about two years ago, but Ms. Burns has been doing personal shopping for years.
She used to shop for friends at no charge. They eventually encouraged her to turn her hobby into a career. "It's like any other business. You start out helping friends, and then you see a way to make a career out of it," she says. She hopes to hire assistants eventually.
She says she regularly receives resumes from college students who want to follow in her footsteps.
Like her clients, most of the students find out about Ms. Burns from pamshops4you.com, her personal Web site. After leaving Bloomingdale's, Ms. Burns drops by the Levi's Original Jeans store, where she tries to exchange a pair of jeans for a client who lives in the Far East.
The client, a Korean businessman, lived briefly in Baltimore a few years ago, and became enamored with American fashion.
The client pays Ms. Burns to buy and send him trendy clothes.
At the Levi's store, Ms. Burns wants to exchange a pair of jeans with a 35-inch waist and 32-inch inseam for a bigger pair.
She sends a clerk to the stock room several times to find a size and style that will suit her client, whom she describes as "very particular."
"This is why people hire me. They don't want to have to deal with making exchanges and searching for the right size. I do it for them," she says.
Ms. Burns says the overseas businessman is seeking a pair of "crinkle" jeans, which means they feature a slightly lighter shade of blue than usual denim. She determines the Tysons Corner store doesn't have the size and style she needs, and leaves her name with the store manager, who promises to call her when the next shipment arrives.
Then it's off to the Tysons Corner Center's Banana Republic outlet. Later, she plans to head to the Tysons II shopping mall, also in McLean.
"There's a lot more to do today," Ms. Burns says as she buzzes out of the Levi's store.
All content © 2000, by News World Communications, Inc.; 3600 New York Avenue, NE; Washington, DC 20002 and may not be republished without permission.

---
Vitals Gift Guide for Him
Winter 2005
Vitals Magazine
With a week¹s notice, Pamela can buy, wrap and send gifts from Gucci, Prada or anyplace else ­ even in time for December 25

---
Winning the Wardrobe War
How to Tame Your Closet and Find the Wardrobe You Never Knew You Already Had
Winter 2007
Washington Woman
Taking pieces of outfits that you always wear together and then mixing them with other outfits will help you find you have more clothes that go together than you think, recommends Pamela Burns, owner of Pamshops4you.

---
Tis the Season to Spend Money
What Are Your Holiday Shopping Habits?
Winter 2007
Corridor Inc.
We started with a professional. Pamela Burns, a Potomac native, is a personal shopper. With clients up and down the corridor, she spends her days in the stores finding the right stuff for clients. She normally charges purchases and when she¹s with a client, nine out of 10 tend to use credit cards too, she says.
Some clients, if they are really budgeting themselves, will use cash, she added.
She chooses American Express for client purchases and she usually uses about 98 percent of the limit, so she makes sure it¹s paid off at the end of each month, she says.
And when it comes to a budget, Burns says she sticks to her holiday shopping limit. Being in the stores all the time, Burns has the inside scoop on sales, coupons and deals.

---
The Anti-Aging Fitness Prescription
Fashion Sense
January 2006
By: Z. Altug, MS, PT and Tracy Olgeaty Gensler, MS, RD
The Anti-Aging Fitness Prescription
If you look in your closet and wonder if your clothes are stylish, you're not alone. Don't let the fashion boat sail without you. Pamela Burns, a fashion consultant in the Washington, DC area offers some clothing selection SOS:
Weed out your closet. Those parachute pants probably aren't coming back in style. Heavy shoulder pads, puffy sleeves, funky necklines, very short skirts, loud patterns and outdated trendy-colored clothing must go.
Keep your classic-look clothing. Always-in-style colors include white, black, gray and navy. Sweater sets with a jewel neckline, basic blouses in small feminine flowery prints, basic polo shirts, oxford shirts, turtlenecks and straight skirts that hit at the knee. A woman's standard pump shoe with a 2″ heel never goes out of style. Pitch any pieces over 5 years old that don't meet these classic criteria.
Think updated rather than trendy. Sometimes trendy looks too teeny-bopper.
Choose one updated piece and keep the rest classic. An updated shoe can bring your outfit from so-last-year to just right. The best part: you can wear the same classic outfit in two years with a new pair of shoes and bring your style right up to date again.
For men, flat-front pants are a good choice but if they are a difficult fit (a little too much girth in the mid section) look for one-pleat pants. If your legs and rear end are too thin, pleated pants may be your best choice as they can fill you out.
Pamela says, "Visualize your outfit in the 50's, 60's and 70's through now, and if it fits for any era, it's a keeper".

---